Expert Slate Roofing Solutions Now In Peterborough
Slate roofing provides a tough and remarkable value to your property in Peterborough with its superior durability and timeless charm. Slate roofs are a popular choice for decades as Peterborough homeowners appreciate the classic design and how they can last for a long time. If you feel that your home will benefit from this type of roof, let A1 Roofing Peterborough be your partner in transforming your home for the better. With A1 Roofing Peterborough fully qualified, well trained, friendly and experienced technical team of roofers and our customer-centred service culture, A1 Roofing Peterborough brings premium quality slate roofing solutions to residents, landlords and property developers in Peterborough. A1 Roofing Peterborough customers in the Peterborough area have enjoyed the benefits of having our fully licensed and accredited roof specialists with more than 10 years experience working on their slate roofing system. A1 Roofing Peterborough are fully insured and use the best quality materials, as well as the latest and most advanced technologies and techniques to guarantee maximum efficiency and customer satisfaction. A1 Roofing Peterborough believe this level of customer satisfaction shouldnt be out of reach, which is why our rates are reasonably priced.
Our Guarantee
---
Free site visit and survey
No hidden costs
British standards compliant
Fully Insured
Clean and efficient
Professional workmanship
Long Lasting Value
Its the reason why some of A1 Roofing Peterborough oldest customers will simply tell you A1 Roofing Peterborough gives you the best value for money. Slate can hold its own when compared to other roofing materials in terms of lifespan. It has a lifespan double those of other roofing materials, remaining fully functional for as long as a century. This is why slate roofing products come with a guarantee for 100 years. You will definitely enjoy its benefits for as long as you remain in your Peterborough property. Mold and fungus dont grow on its surface as well, which limits the need for frequent cleaning or maintenance.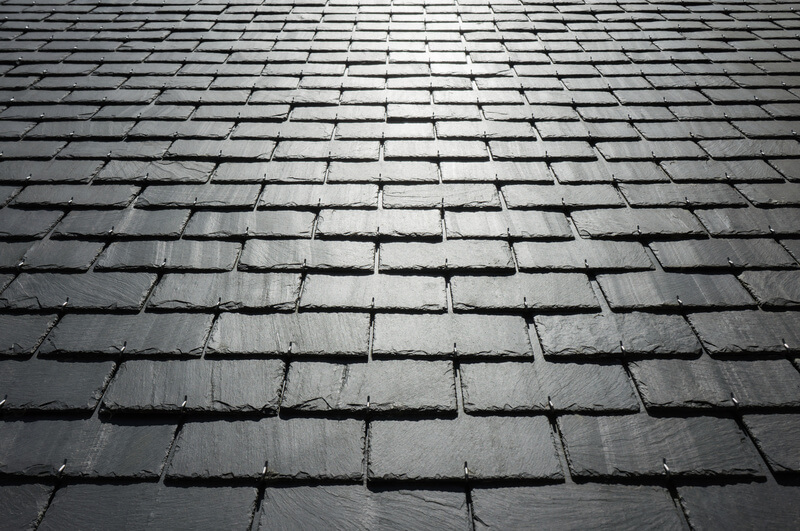 If youre based in Peterborough and will like to know more about our slate roofing solutions, call our friendly and helpful customer care agents on 01733 590134 now. You can ask any questions about A1 Roofing Peterborough services or have them provide a free quote for your roofing needs.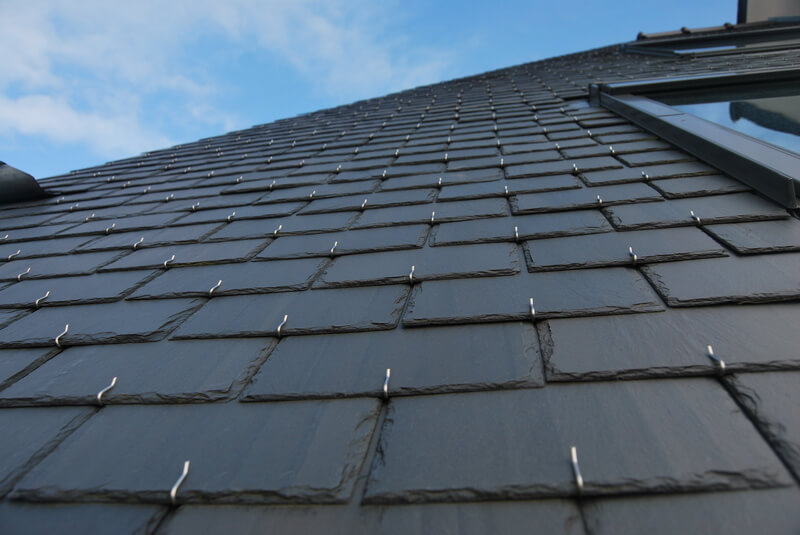 Reasons Why Your Peterborough Property Would Benefit From Slate Roofing
There are people who would point out that slate roofing is complicated and can cause problems due to their weight. Thats true, but only to the extent of the roofing company you hired to install it on your property and their technical expertise and experience. The advantages of a slate roof versus other types become apparent when the roofing project is done by a top roofing company like A1 Roofing Peterborough that takes pride in the level of attention they pour into their work.
Most homeowners love having a slate roof because they look naturally nice. A building owner must ensure to hire experts to install this type of roof so that they will complement the building well regardless of its architectural style. Slate roof tiles are available in several colours and textures, which you can also combine to suit your roof design goals. It is possible as well to personalise the design further by shaping the slate shingles according to your desired thickness and size. No matter what period your Peterborough home was built in, slate roofing will not overpower its inherent beauty.
Do You Need Help ?
Call Us Now On
No-cost Expert Pre-installation Roofing Survey In Peterborough
Before A1 Roofing Peterborough install slate roofing on your property, well first undertake a detailed inspection of your current roofing system to help us understand specific details of your slate roofing needs. This will help A1 Roofing Peterborough decide the best fit to complement and bring out the beauty of your home.
Low-impact Roofing System
It is good for the environment due to its durability. Compared to other roofing materials, it does not require to be replaced every couple of decades or so.
Increase In Property Value
Increasing a propertys aesthetic appeal in Peterborough as well as providing low-maintenance protection for many years naturally increases the resale value of a property. Give us a call today at 01733 590134 and our friendly customer service representatives will answer any question you may have on slate roofing and provide a free quote at no obligation.
Minimal Repair And Maintenance Costs
Because slate is a natural stone, it is tough, strong, water-proof and non-combustible. These qualities make slate suited to the job of protecting a property against the elements.
All Types of Roofing Work Undertaken
Do You Need Help ?
Call Us Now On
A1 Roofing Peterborough Slate Roofing Services In Peterborough
A1 Roofing Peterborough have a wide range of slate roofing solutions our clients can choose from. Wherever possible and as much as A1 Roofing Peterborough can, well source recycled slates to save cost for our clients as well as for environmental friendliness purposes. On the other hand, A1 Roofing Peterborough clients that prefer to work with brand new slate roofing tiles benefit from our trusted suppliers worldwide. If you urgently need a slate roofing system for your home in Peterborough, A1 Roofing Peterborough can help provide quick and effective solution at the best value for money. Call A1 Roofing Peterborough today on 01733 590134 to get a free, no obligation quote for slate roofing services that give you peace of mind and keep you smiling.